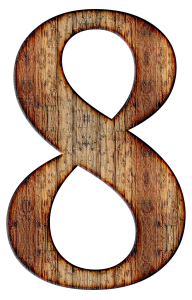 My friend and colleague Donna Papacosta tagged me with sharing eight things you might not know about me. This was surprisingly hard to come up with! Here goes:
1. From grade 2 to grade 7, I lived in Granby, Quebec, most famous for its zoo, the largest in all of Eastern Canada. From our house, you could hear the lions roaring at lunchtime.
2. Although words are my thing, not numbers, I did well in Accounting in college, to the point that my professor seriously recommended that I pursue a job in the accounting profession.
3. Throughout grade school, teachers used to write in my report cards, "Susan is slowly overcoming her shyness." They could still say that! It's a work in progress.
4. I met my husband on a camping trip in New York State. Really, we both prefer a place with a comfortable bed and a shower.
5. My grandfather was an artist and I always liked to scribble and draw. The only way this has translated into anything is when I dabbled in folk art painting. I like it and have created some beautiful things, but don't seem to make time for it unless I take a class.
6. I can't sing the Canadian national anthem without getting tears in my eyes. In fact, I tear up at just about any touching commercial, movie, article, book…
7. I once won a workplace award for "always being nice." The occasion was a Marketing department lunch/roast, where most people were given awards that touched on their shortcomings. I was torn between being somewhat annoyed (I mean, how boring is that?) and thinking, well, yeah, that's me.
8. I'm not a fan of chain letters or "send this to everyone you know" emails and refuse to pass them on, no matter how touching they are or how much guilt is laid on ("If you delete this, you're showing you don't care about…"). This kind of falls into similar territory, but I have the greatest respect and affection for Donna, so I'm doing it. I'm not tagging more people though.
What else would you like to know?