(Customer success story for IBM)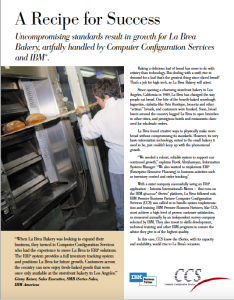 Baking a delicious loaf of bread has more to do with artistry than technology. But dealing with a swift rise in demand for a loaf that's the greatest thing since sliced bread? That's a job for high tech, as La Brea Bakery will attest.
Since opening a charming storefront bakery in Van Nuys, California in 1989, La Brea has changed the way people eat bread.
One bite of the hearth-baked sourdough baguettes, ciabatta-like Pain Rustique, focaccia and other "artisan" breads, and customers were hooked. Soon, bread lovers around the country begged La Brea to open branches in other cities, and prestigious hotels and restaurants clamored for wholesale orders.
La Brea found creative ways to physically make more bread without compromising its standards. However, its very basic information technology, suited to the small bakery it used to be, just couldn't keep up with the phenomenal growth.
"We needed a robust, reliable system to support our continued growth," explains Hovick Abrahamyan, Information Systems Manager. "We also wanted to implement ERP [Enterprise Resource Planning] to business activities such as inventory control and order tracking."
With a sister company successfully using an ERP application (Intentia International's Movex) that runs on the IBM (e-server logo) iSeries platform, La Brea followed suit. IBM Premier Business Partner Computer Configuration Services (CCS) was called in to handle system implementation and training. IBM Premier Business Partners must achieve a high level of proven customer satisfaction, as measured annually by an independent survey company selected by IBM. They also invest in skills development, technical training and other IBM programs to ensure the advice they give is of the highest quality.
In this case, CCS knew the IBM iSeries, with its capacity and scalability, would rise to La Brea's occasion.
CCS delivers a platform for growth
"CCS is a 'one-stop shop' providing our customers with end-to-end solutions — hardware, software and training — for an entire project or pieces of a project," says Mitch Kleinman, Executive Vice President for CCS. "Our objective is to provide the solution that solves the business need at the best possible value."
For CCS and its customers, that comes down to using IBM technology. "There is no business issue that we cannot solve with the breadth of IBM technology, services and support," says Mr. Kleinman.
IBM also appealed to Mr. Abrahamyan as a platform for the chosen ERP software. Although initially unsure whether to go with Microsoft or IBM, La Brea's "family" again made the decision easy. The parent company recommended IBM, having experienced first-hand its reliability.
"CCS already had customers who used Movex, so they were familiar with the software," says Mr. Abrahamyan. "They were very knowledgeable and professional, and no other company could compete on their prices."
CCS delivers on time
When it came to installation, Mr. Abrahamyan also found that CCS could deliver on projected timelines, meeting a fairly aggressive implementation schedule.
"La Brea's system went live within four to five months with minimal disruption, whereas most ERP implementations take months longer," says Mr. Kleinman.
Mr. Abrahamyan agrees that the implementation went very smoothly and quickly. "I'm very pleased with how responsive CCS is," he says. "We have a pretty small IT [information technology] department — only three employees, including me — and CCS can talk us through any problems. Actually, with IBM, they aren't 'problems,' they're usually questions to do with setting up or configuring the hardware or software."
Counting loaves
La Brea notices a big difference in its operations since it began running the fully Java-implemented ERP application, which provides support for total supply chain management. The software, which comes with IBM's enterprise-proven technology embedded inside, enables customers to anticipate opportunities and respond quickly to changes throughout the supply chain.
"This system lets us see what is being produced, what we have in stock and what is being wasted," says Mr. Abrahamyan. "That gives us the ability to schedule our production efficiently so we can get the right product to customers at the right time, while keeping our ingredients fresh. With our old system, we were limited to basics like taking orders, and we couldn't track inventory."
The system will also help La Brea's sales and marketing departments better analyze and forecast sales, and speed up invoicing, which contributes to better cash flow. Executives can easily get reports on costing and inventory, which gives them a better and more timely handle on profitability.
"Now, we're also set up to introduce other features that will continue to improve our business and integrate solutions with our customers, such as taking orders online and using electronic data interchange," adds Mr. Abrahamyan.
IBM saves dough
The IBM iSeries infrastructure has been proven to process Java applications better than other similarly-priced midrange systems. It also significantly lowers the cost of implementation, because customers are able to use a standard version of the iSeries rather than a more expensive enterprise model.
Reliability and ease of management are also key features of the iSeries infrastructure. "The iSeries is so reliable that I don't have to worry about it, and I don't need to hire more IT staff to keep up with it," explains Mr. Abrahamyan. "It's also less expensive to manage than a UNIX system, and I can see that it will save us money over time."
He adds, "Most importantly, the iSeries gives us scalability, which will allow us to continue to grow our business without interruption."
For bread lovers across the country, that's good news, no matter how you slice it.
Callout:
"There is no business issue that we cannot solve with the breadth of IBM technology, services and support." – Mitch Kleinman, Executive Vice President, Computer Configuration Services