(Published in The Mississauga Business Times) 
When Gail Friedlander launched Images That Suit* in 1984, career success meant wearing dark suits with enormous shoulder pads.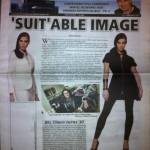 Originally a recruiter and career counsellor, Friedlander had seen the effect image had on job interviews and promotability. She created the business to provide clients with professional clothing through individual appointments, partnered with seminars on dressing for success.
She soon opened two private showrooms, one in Toronto and one in Streetsville, one of Mississauga's lovely villages.
Today, the shoulder pads are long gone and often so are the suits. Images That Suit has also changed, transforming into a unique personal shopping experience serving the 30- to 60-year-old female Friedlander calls "the forgotten woman."
"Mall stores focus on 19- to 25-year-olds, who want fast fashion and often don't care how long it lasts," explains Friedlander. "Our woman knows that fashion fades but style endures. She wants stylish, appropriate, quality merchandise at a moderate price, and she just isn't on the mall's radar."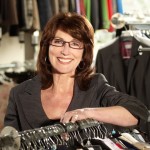 Images That Suit helps customers achieve that elusive goal by providing free wardrobe consultations. Friedlander — or one of a team of 10 image consultants — meets one-on-one with customers to match their clothing to their lifestyle. The aim is a look that's individual yet professional, tailored to job and industry.
"Women are looking for a style identity, and it is more complex now than in the '80s," Friedlander says. "Our clients want to look vibrant, energetic, current and professional. They understand that their image is their calling card."
The consultations take place in the Images That Suit offices, each of which is paired with a warehouse of fashionable clothing available for purchase. Consultants select outfits for the customer to try on in showrooms that have the feel of a friend's comfortable living room.
The collections feature business, business casual and weekend casual outfits hand-picked from 30 to 40 moderately priced Canadian and European labels. Coordinating footwear, jewelry and other accessories are also on hand.
There's no pressure to buy, but how can a woman leave empty-handed when she looks so darn good in an outfit chosen especially for her?
"When you come in for a private wardrobe consultation, it's an opportunity for us to understand your lifestyle, your likes and dislikes, your body and your goals," says Noreen Pidgen, a 10-year Images That Suit image consultant. "Then we can provide you with your best look."
The conversation allows Images That Suit to meet the needs at both ends of the demographic:
Those in their 30s may need help building a business wardrobe that looks professional rather than too casual or "clubby."
Boomers may need help to recover their style or look current.
For any age, women may also have issues finding the right length or size, depending on their height and weight. And nobody wants to look too young or too matronly.
"A client often develops a close relationship with her consultant, which encourages her to try  new looks," says Friedlander. "There is an intimacy that you don't get in a mall. The private showroom, the uninterrupted one-on-one time, the consultative approach, taking you outside the box — that's what differentiates us from any other service out there."
Images That Suit consultants also save customers time, a precious resource for busy career women. Instead of trudging from mall to mall, a client books a session to check out a new season's offerings, find a new outfit or pick up pieces to go with her current wardrobe. And twice a year she can do so at a discount during a warehouse sale.
Although the recession caused some clients to keep a tighter grip on spending, Images That Suit has struck a chord with its target market. Repeat business is key, and the business boasts a 90-per-cent repeat rate and many long-term relationships.
The referral business is likewise huge, with many a new customer drawn in after admiring a friend's chic and often funky jacket or top.
That's how Jane Guy met Friedlander four years ago, after a close friend showed up for dinner in a striking black jacket that had what Guy calls the "wow factor."
"Gail has an eye for colour and style, and has made me put on stuff I would never have tried," says Guy, who admits to approaching 60. "Gail has brought me to the point where I enjoy brighter colours, and I have pieces that I feel great in."
Thirty-something Laura Stevenson recently changed jobs to one in which she had to be ready to walk out the door and into a client meeting any day of the week. She booked an appointment with Pigden for a fast wardrobe boost.
"I love the personalized shopping experience, and Noreen makes it so enjoyable," Stevenson says. "She listened to what I wanted and brought in so many great outfits for me to consider — and she gave me honest feedback, which is priceless when clothes shopping!"
Portraying an image of career success isn't the only benefit of the Images That Suit experience. Another appealing result is growing older with style.
The first time Hazel Lamarre tried on clothes chosen specifically for her by Friedlander, the 50-something businesswoman took one look at herself and blurted out, "A woman my age shouldn't look this hot!"
Five years later, with most of her wardrobe sourced from Images That Suit, Lamarre now says, "I have every right to look this hot."
*Sadly, Images That Suit did not make it through the COVID-19 pandemic.