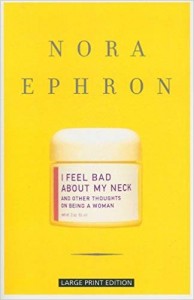 Just had to share another book that recently showed up at my local library (I was 29th on the "hold" list!): Nora Ephron's I Feel Bad About My Neck and Other Thoughts on Being a Woman.
I had read an excerpt in a magazine and found it hugely funny, especially the parts where she laments the increasing amount of time she has to spend on "maintenance" now that she's in her sixties — hair (wanted and unwanted), nails, exercise and skin. She also talks about purses, New York, parenting and more.
The unexpected part was a very moving account of her best friend at the end of the book. I won't spoil it for those who might read the book, but it changed a funny read into something else. I'm still not sure how I feel about this, but I am jealous of her talent!