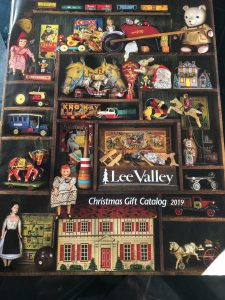 Christmas catalogues are landing in the mailbox about as fast as the two maple trees next door dropped all their leaves last week. Today's specimen: Lee Valley Tools.
The company is based in Ottawa, but they have a dozen locations across Canada and a thriving mail-order business. I love these guys for two reasons:
1. You'll find useful, interesting, unique and environmentally friendly tools, garden gizmos, toys and gadgets.
For instance, there's the FireFork(TM), a bent piece of stainless steel that clamps onto any stick to convert it into a campfire fork. If you go camping with your kids, you'll totally want that! Then there's the Rimroller (TM), designed to neatly unroll the rims on paper coffee cups so you can enter the enduring Tim Hortons contest known as Roll Up The Rim To Win.
2.  The writing is as down to earth and quirky as the product line.
Take this description for clamshell scissors: "We added these scissors to deal with the miserable and dangerous welded plastic clamshell packaging that supposedly adds security to a product package. For use only on other companies' products, as we won't sell a product packaged that way."
I've ordered a few things from Lee Valley over the years, and looks like I will have to drop by again to check out some of the additions.