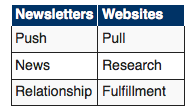 In his Alertbox newsletter discussing how non-profit web sites can attract new donors (you'd think it would go without saying, but obviously not: it's be clear about what you are trying to achieve, and tell potential donors how you are going to spend the money), Jakob Nielsen comments:
"For encouraging customer (or donor) loyalty, e-mail newsletters remain the Internet tool of choice."
The link from this comment takes you to Nielsen's June 12, 2006 Alertbox, "Email Newsletters: Surviving Inbox Congestion." Lots of good advice, and this statement:
"Our main conclusion remains the same: Email newsletters are the best way to maintain customer relationships on the Internet."
I share Nielsen's love for newsletters. The best ones are warm and familiar. They contain interesting and/or useful information. They arrive often enough to build a relationship, but not so frequently that the reader starts to get annoyed. (What? Another one already? I haven't had time to read the last one!) They keep in mind that the reader wants to know "what's in it for me?" and go easy on the sales pitch.
Nielsen notes that readers have different expectations of newsletters compared to web sites. Newsletters create a highly emotional reaction, a bond between the reader and the company. Web sites are all about usability.
"Even a website that you visit daily will feel like a tool where you simply want to get in and get out. The negative aspect is that usability problems have a much stronger impact on the customer relationship."
Nielsen has lots of advice about writing and designing for scanners, crafting subject lines, opening lines and headings, and making it easy for readers to get on and off subscription lists. Find much of it in the free summary and even more in his full Email Newsletter Usability Report ($398).