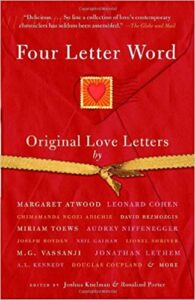 Have you read Four Letter Word: Original Love Letters (edited by Joshua Knelman and Rosalind Porter)? Although one reviewer said it "unleashes the romantic in all of us," I didn't find it that way at all.
Confession: I am a hopeless romantic. Actually, make that hopeFUL romantic. So I looked forward to reading this collection, described as "testimony to the creative powers of our leading writers…each guaranteed to seduce."
Well. Each piece was indeed "radically different from the others," as billed. While the pieces are set up as letters, they are really more like short stories in some way related to some kind of love. For instance, there's a stalker, a daughter writing to her dead father, an e-mail exchange sent to the wrong address, an ode to a house. Yeah, a house.
In 245 pages, only two passages really spoke to me:
"I cannot wait to hear your voice again. This is such a frustratingly cold medium in comparison to the heat of your touch, the warmth of your smile, the glow of your expression when you catch my eye." (Lionel Shriver)
and
"…the town is behind me, the moon rides gloriously high above and I am scudding along the coast road towards Llanystumdwy. Ah, I feel the ecstasy rising! That light beyond the woods up there? Can it be your light? Is the breeze from the sea stirring your heart at this moment as it stirs mine? Is your kitchen door open for me, with a flicker of your firelight brightening the yard? Oh my love, my light, my glory! I am coming! You are waiting!" (Jan Morris, talking about "my one and only house")
So now I'm in search of Other People's Love Letters: 150 Letters You Were Never Meant to See, by Bill Shapiro, which sounds more like what I was looking for:
"Fevered notes scribbled on napkins after first dates. Titillating text messages. It's-not-you-it's-me relationship-enders. In Other People's Love Letters, Bill Shapiro has searched America's attics, closets, and cigar boxes and found actual letters — unflinchingly honest missives full of lust, provocation, guilt, and vulnerability — written only for a lover's eyes…what at first appears to be a deliciously voyeuristic peek into other people's most passionate moments will ultimately reawaken your own desires and tenderness…because when you read these letters, you'll find the heart you're looking into is actually your own."
Now, doesn't that sound like something for a hopeful romantic?