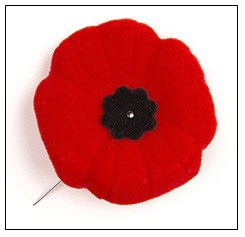 From November 5 to 11, Canadians celebrate Veterans' Week, remembering and honouring the veterans who fought in past wars and the soldiers who are still fighting for freedom. November 11, the day that marked the end of World War I, is both Remembrance Day here and Veterans' Day in the U.S.
The poppy has been the official symbol of remembrance since 1921. Why a poppy? Poppies bloomed across some of the worst battlefields of Flanders during World War I, memorialized in a famous poem by Canadian military physician John McCrae. In Flanders Fields opens:
In Flanders Fields the poppies blow
Between the crosses, row on row
That mark our place; and in the sky
The larks, still bravely singing, fly
Scarce heard amid the guns below.
Over on Twitter, a number of people have opted to show support for veterans and mark Remembrance Day by adding a poppy to their avatars or photos. When I did so, someone objected, protesting that I should support the Legion by buying a poppy to wear. "Just how many WWI & II veterans do you think are on Twitter?!?!" she asked.
Well, I don't imagine many vets are on Twitter, but as I see it, the whole point of the virtual poppy is awareness. I do buy a poppy pin and wear it (on the left, close to my heart), and I bought one for each of my sons, too. The virtual poppy is a reminder to others to do the same. In fact, Veterans Affairs Canada encourages Canadians to include social media in the way we show that we remember and honour our Canadian veterans:
"Change your Facebook profile picture with a poppy, write on your wall about how you remember…write about remembrance on your blog…However you choose to remember, be sure you share with a friend, a family member or a colleague. Encourage them to take up the challenge too."
My father, now 84, enlisted in the army, eager to serve. His older brother saw combat but Dad never did, having come down with pneumonia before being sent overseas. He was just 20 when the war ended and has always regretted that he never made it to a battlefield. I remind him that I might not be here if he had.
So I'm wearing a poppy on my jacket and on my photo to show that I'm grateful for the men and women who have fought and continue to fight for the freedom we enjoy. I'll be even more grateful when the day comes that war is just a distant memory.