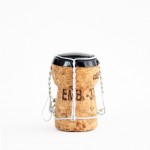 Champagne on ice? Check.  Cupboards stocked with food? Check. Coins in the pocket to signify wealth for the coming year? Check. Twelve grapes to gobble at midnight, also meaning wealth? Check. Bright red or yellow undies to 'catch' love or money? Er – I'll never tell!
It's New Year's Eve, and superstitions abound. One of my favourites, besides those just listed, is the Scottish folklore tradition of First Footing, where the first person to cross the threshold of a home on New Year's Day brings fortune for the coming year. The first-foot is traditionally a tall, dark-haired man bearing gifts, such as whisky for good cheer, or a silver coin representing prosperity. Yes, a resident of the house can be the first-foot, but he can't be in the house at midnight, go out, and come back in. I guess he'd have to deliver a midnight kiss outside on the doorstep and then step in.
Snopes lists some interesting superstitions, including this: You should do something related to your work on the first day of the year (and be successful at it). "Limit your activity to a token amount, though, because to engage in a serious work project on that day is very unlucky." I think I can handle that!
You should also wear something new on New Year's Day. Don't do laundry, lend money or break anything, which all set a bad tone for the year.
Whatever you do, have a safe and enjoyable New Year's celebration, and here's to a successful 2011!
Photo by Simon Howden via FreeDigitalPhoto.net. (Here's Simon's portfolio.)