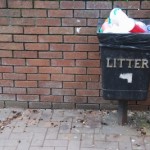 An email arrived the other day and was promptly sent to the junk folder by my mail program. The reason? The subject line read, "Thought you might be interested in this."
I do scan mail in the junk folder, especially because postings to my school forums often seem to end up there. "Thought you might be interested in this" is almost a classic spam line, so it's only because the sender's name was vaguely familiar that I opened this piece. I won't embarrass the sender by identifying him, but let's just say he's in the PR business and should know better.
Email marketing experts at MarketingSherpa say, "When done right, email can be one of the most effective tools you have in your marketing arsenal."
So what is "done right"?
1. Make it descriptive and inviting.
In a February 2011 MailChimp study, the email newsletter specialists analyzed the open rates for over 200 million emails. While factors like the sender, the frequency and nature of the message all affect whether the recipient will open the message or not, the best email subject lines provide the reader with a reason to explore the message further. "Put yourself in your recipient's shoes," MailChimp says. "People are flooded with spam and increasingly pressed for time."
2. Keep it short
Try to keep to 50 characters or less. Many people will be reading your message on a mobile device, which will cut off much of it anyway. So will many email programs.
3. …unless length adds value
For newsletters, including something about what's inside can encourage opening the issue. The emailguide.com says shorter is better for click-through rates, but the line must be long enough to convey your message. Describe the content, use a deadline, appeal to the emotions.
4. Focus on the benefits.
What's in it for the reader? emaildesignreview.com says  "use pyramid writing," where you put the key point or offer right at the start. So instead of "Buy a new toaster and save 50%" make it "Half off toasters."
5. Avoid spammy sounding words
Words like free, help, hello, special offer, percent off and reminder all act as red flags to email programs. So do using all caps and exclamation marks.
6. Test before you send
A company described in one of MarketingSherpa's many case studies tested a longer, stronger "call to action" and a shorter, less-direct phrase. The call to action significantly beat the shorter line, which made the reader think too much.
In the case of the message from the PR guy, the content actually mentioned an interesting webinar. THAT was information that should have been in the subject line.
Have you seen any subject lines worthy of the Hall of Shame? I'd love to hear about them.
Image: Vintage garbage can by "artur84" and FreeDigitalPhotos.net.