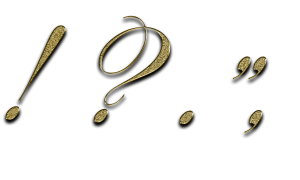 No doubt you breathlessly awaited the results of the contest that marked the 2011 National Punctuation Day (Sept. 24) — the day for drawing attention to America's lapsed grammar skills. Well, wait no longer!
NPD founder Jeff Rubin announced the select few among the 220 entrants who attempted to meet the challenge of creating one paragraph containing 13 specific punctuation marks in no more than three sentences. You'll find the list on the National Punctuation Day website, but this one from Demorah Hayes of Montgomery, Alabama is my fave:
"If punctuation marks wore clothes, the comma would dress in brown—not rich, chocolate, winter-boots brown but faded, school-uniform khaki—and the ellipsis (remember those from Editing 101?) would wear a purple dress with oversized shades and sit alone sipping a martini," said the founder of National Punctuation Day as she announced the day's events to celebrate the "lowly comma . . . and the ever-mysterious ellipsis."

She was vague about the clothing choices of the question mark, suggesting that "the question mark is like the lady who changes [her dress] as the minutes tick by, with her husband yelling 'late!' as he slams the door."

She was more certain about the colon's dress: monochromatic; balanced on top and bottom; and modest in size, color, and fit, as if to say, "look not at me but at what comes after me."
Rubin says he also received a few late entries for the 2010 contest, which asked for a haiku about punctuation and drew more than 3,000 entries. He provided a link to a PDF of the winners on his site, which included this one I particularly like from Michelle Green:
Supermarket trip. / I erase apostrophes / from apple's and grape's.
maybe because my own submission was similar:
What makes me crazy / are apostrophes in signs. / Know the one's I  mean?