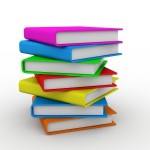 Reading is one of my great pleasures, but 2011 was definitely not a stellar year for me and books. School is to blame, of course; between the required texts and assignments, I had very little time to read for the sheer enjoyment of reading. Still, I managed to sneak in 11 books for fun among the 21 read over the year. Compare this to 2010, when I consumed 42 books in all, 33 of them ones I wanted to read.
So I can only be jealous that Daphne Gray-Grant, the Publication Coach, again achieved her goal of reading 52 books over a year. (Here's her list of recommendations.)
Between Daphne's recommendations, suggestions from friends and ones I've heard about, my "books to read" list is now close to 100 books. With school continuing to mid-July, my work is cut out for me.
Are you a book reader? Do you track how many books you read?
Image credit: jscreationzs and FreeDigitalPhotos.net.