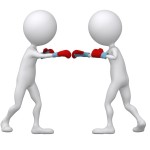 (With apologies to the gentlemen named, I submitted this for a class assignment.)
Few people are retweeted more often than high-profile Twitter users Chris Brogan and Guy Kawasaki. But which one is more successful? That depends on your measure of success.
Retweetrank.com calculates that Brogan and Kawasaki lead in having their less-than-140-character bons mots shared most often, with both above the 99th percentile of retweeting (99.94 and 99.97, respectively). Based on follower count and dozens of other variables, both men also get a TweetGrader score of 100 out of 100 for impact. They boast similar Klout scores [no longer available], a measure of more than 30 factors that include retweet frequency, how far their retweets go and the influence levels of followers. Twitalyzer gives both men a score that indicates a great communicator.
Yet their strategies and approaches are wildly different.
Kawasaki stirred up controversy when he revealed that a team of "ghosts" tweeted under his @guykawasaki account. Kawasaki has also been accused of spamming because he auto-posts the same tweet about four times a day, leading to an average daily rate of 62.8 tweets. He defends this as making sure his followers have a chance to read them, borne out by the fact that each repost receives as many click-throughs as the originals.
Kawasaki has said he uses Twitter as a tool driving traffic to his news aggregator site, Alltop.com, to "monetize" the page views. His stated aim is to point to interesting, educational or funny stories, such as Betty White's 90th birthday and "the four stages of getting Twitter." He has stated frankly that he is not there for the social engagement. No kidding; by 5 p.m. on a random day, he had tweeted 81 times, and all but one were links to Alltop.
Brogan is the only one who tweets under @chrisbrogan, and he comments and retweets an average of 49.6 times a day. He is all about building community. His tweets generally respond to others, promote other people's material or provide his own useful information on such things as blogging for business and how to use social networks like Google+. By 5 p.m. on the same day Kawasaki was measured, Brogan had tweeted 41 times, of which half were conversations.
Dan Zarrella, a "social media scientist" for Hubspot, says Kawasaki's "broadcast" method works better than conversation to encourage retweets. Zarrella also points out that the more someone tweets links, the more followers they will get.
By those measures, Kawasaki wins.
Brogan began tweeting about 10 months earlier than Kawasaki, yet the latter's prolific posting means he has pumped out 6,000 more tweets (100,844 to Brogan's 94,745). Kawasaki has more than twice the number of followers (475,199 versus Brogan's 198,366) and he is also listed in more places (29,049 versus Brogan's 20,340).
However, by online authority – which measures how much people can trust and rely on someone's recommendations and opinion on a topic – Brogan wins. A PeerIndex score of 64 ranks Brogan well ahead of Kawasaki's 34 and puts Brogan in the top one per cent of Twitter users as opinion leaders and influencers.
Fortunately, the true winner is the Twitter user, who can benefit by following both @chrisbrogan and @guykawasaki.
(All statistics were calculated in mid-January, 2012.)
Image credit: David Castillo Dominici and FreeDigitalPhotos.net.