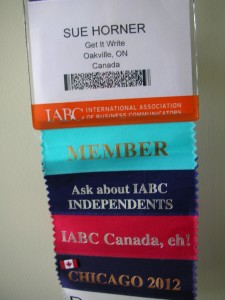 Networking really doesn't get any easier than at an IABC World Conference. If you'll be there – especially if you're a rookie or solo in a unfamiliar city – you might find these tips helpful:
You can't miss that giant badge on your lapel identifying you as a communicator. So when you get into an elevator and you see the same badge, say hello!
It truly is an international conference, so an easy icebreaker question is, "Where are you from?" Yes, you'll meet a lot of Canadians and Americans, but you'll also meet people from Australia, Denmark, Japan, South Africa, the U.K. and  many other places.
Check if there's an orientation session. It has specific tips for networking, but more important is that you will meet a bunch of new people, probably many who are attending their first IABC conference or travelled solo.
Sign up for the Tuesday dinearound. This takes care of "where do I eat in a city I don't know?" Local IABC members sign up to lead a party of 10 or so people to a specific restaurant, and you sign up for the type of food or location that appeals. Again, you'll meet new people and get to eat great food at a restaurant recommended by locals. There are usually menus and details in the hospitality area of the conference hotel, and local members who can answer your questions. Sign up early, though, because spaces fill up fast.
Make a point of sitting beside people you don't know and introducing yourself.
…but don't hesitate to spend time with other members from your home chapter too. I'm in the Toronto chapter, and it's so big that I like having another chance to meet up with other local members.
This may seem obvious, but bring business cards. If you are between jobs, get a simple one printed with just your name and contact information.
Only give out those cards when you make a real connection with someone and have a reason to be in touch. There are no prizes for coming home with the most business cards.
Make plans to meet or look for some of your Twitter contacts. It's always great to have a face to the @.
Follow up with people you meet by asking to connect on LinkedIn. Be sure to personalize the invitation with a reminder that you met at the conference.
If you have any other tips specific to IABC conferences (or elsewhere), please share in the comments below!