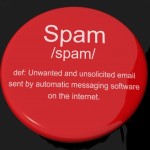 Oh, if only those spammers would just apply their endless energy to good!  But no, they are spending time posting spam. At least it is often flattering and cheery, if many times incoherent:
This is definitely the thing I've been looking for! Wonderful and cheers!
We truly dearly loved examining this blog. Regards.
Sweet website, super pattern, very clean and apply friendly.
I gotta favorite this site it seems very beneficial handy.
oh cool, this info is actually useful and definately is comment worthy! hehe. Ill see if I can try to try some of this information for my own blog. Thanks!
Excellent! it is the word that comes in my opinion when I look at your blog and when I read what you have to state. Your opinions are extremely a lot as well my own. We happy that I chose to enter your website to see what you're thinking about.
Very good article. Coherent and informative just like a good article should be, I'll definitively be back for more.
I feel that you simply merely hit the nail around the head employing this write-up.
Hey, I'm your brand-new dedicated target audience, several thanks relating to expressing so great feuilleton!
Normally I don't learn post on blogs, however I would like to say that this write-up very compelled me to try and do it! Your writing taste has been amazed me. Thanks, quite great post.
Hello from many miles away! This is just what I was searching for, and you wrote it well. Thanksle
Good aftie. i am a blogger too. and i can see that you are a nice blogger too.
Oh, spammers. You shameless flatterers, you!
Illustration: Stuart Miles and FreeDigitalPhotos.net.