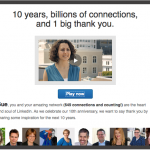 When it comes to engaging and involving the people who use their networking site, the folks at LinkedIn are doing a good job.
This is somewhat belated, but I thought the short video put together for LinkedIn's 10th anniversary (what? already?!) on May 7 was nicely done. As described on the LinkedIn blog, it asked members "what they aspire to accomplish in the future," noting that the answers were a reminder of "how much power this community of 225 million has to change the world."
Also clever: Personalizing the email letting members know about the video. Not only did my message recap how many connections I have, but it also included thumbnail photos of 10 of them. How could I not click on the link?
Did you get the email and did you watch the video? What did you think?
You might be interested in a couple of my other recent posts about LinkedIn:
How to make your endorsements meaningful
10 tips to polish your LinkedIn profile