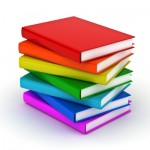 Especially given my last post, it's time for another roundup of funny, interesting or just plain silly items found online, this time related to books:
The Seattle Public Library staged the world's longest book domino chain to promote its summer reading program, with the help of 2,131 books and 27 volunteers. (Sorry, the video doesn't seem to be around any more.)
Jane or Jones? Match the quote to Jane Eyre or Bridget Jones's Diary. (Sadly, the quiz has gone missing.)
The UK's Bookseller magazine gives out a prize each year for the Oddest Book Title. I always get a bigger kick out of the droll commentary than the admittedly odd book titles. Winners have included such quirky gems as Goblinproofing One's Chicken Coop and The Joy of Waterboiling.
Book poetry, aka poems formed from the spines of books.
Are you a book lover? What funny or interesting items have you found related to books?
Image: Stack of books by "Master Isolated Images" and FreeDigitalPhotos.net.

(Links updated August 2019.)