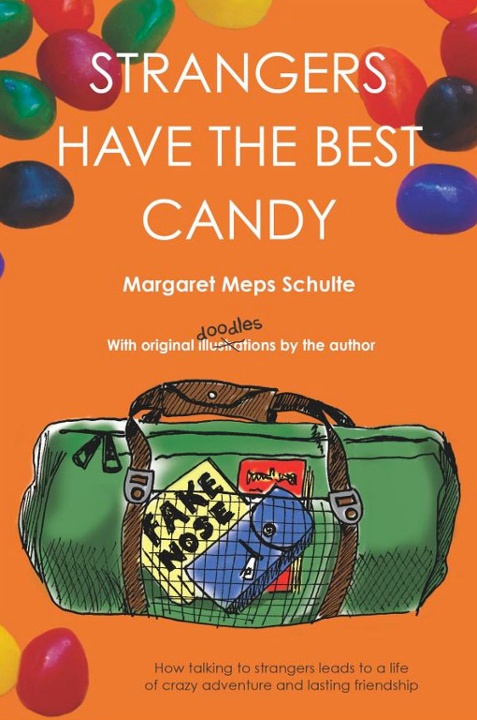 The clever folks at The Bookseller, a British trade magazine, have a way with words and a good sense of humour. Exhibit A: The Oddest Book Title contest.
I've written before about this funny contest, conceived in 1978 by The Diagram Group's Bruce Robertson as a way to avoid boredom at the Frankfurt Book Fair. In 2009, The Bookseller's Philip Stone was quoted as saying the prize "celebrates the diversity within book publishing today…the beauty of print-on-demand for fascinatingly niche titles, and perhaps most of all, complete and utter oddity." This year, I found reference to "bat-guano eccentricity."
What's not to love about a contest that celebrates that?
This year's shortlist featured titles that were "unparalleled in their oddity," according to The Diagram Prize co-ordinator Tom Tivnan. The winner: Strangers Have the Best Candy, a travelogue by Margaret Meps Schulte. Ms. Schulte narrowly edged out Diana Rajchel's Divorcing a Real Witch: For Pagans and the People who Used to Love Them.
Mr. Tivnan comments:
"With the public recently giving the Diagram crown to the likes of How to Poo on a Date, Cooking with Poo and If You Want Closure in Your Relationship, Start with Your Legs, I despaired for a populace becoming obsessed with smut and filth. I welcome the return to the clean, wholesome fun of the Diagram's roots."
The contest is open to anyone who has run across a quirky title, and this reminds me to keep my eyes open. At one time, the winner of the contest received a magnum of champagne, but I see now he/she only gets "a passable bottle of claret." Of course, there's the glory.
Find past winners on this roundup of Oddest Book Titles.