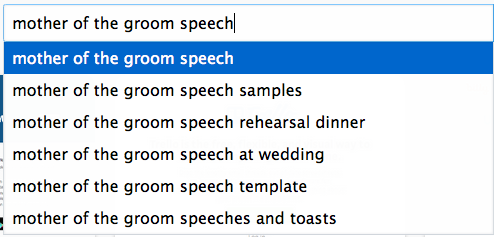 If your son is getting married, tradition apparently calls for Mom (or Mom and Dad) to say a few words. But here's my tip, after Googling "mother of the groom speech" for inspiration: write it yourself.
Don't "Let the pros write it for you," as one website I ran across offered.
Do not pay "just $19.95!" to learn how "you CAN Deliver an Exceptional Mother of the Groom Speech which will Completely Spellbind your Audience."
Having just delivered a Mother of the Groom speech, I can tell you that it doesn't have to be exceptional, nor does anyone expect to be spellbound. People don't care if you cry, either — in fact, I'd say they expect it.
What's most important is that your words come from the heart. That's something no website can give you.
Helpful Google had some reasonable suggestions for content in the 13,900,000 results that popped up to my search, including:
What your son was like growing up
How he related to any siblings
Funny incidents you remember
Humorous and/or sentimental stories about your relationship
Kind words about your son's partner.
There were probably as many silly suggestions, including:
Your voice must not tremble with emotion [Why not? see above]
Share your personal reflection on marriage and what you have learnt [It's not about you]
Proverbs, scriptural quotations, wisecracks, wise quotes, etc. [Zzzz]
If you're curious about my own speech, I kept it short. I thanked people for coming to celebrate with us. I admitted to being a cryer (preemptive move, in case I choked up), giving examples of when I first dropped Son #1 off at daycare, and when we left him at his dorm the first year of university. I talked about the time when our handsome, smart, funny, thoughtful beautiful boy had no one special in his life, and when he did. And I said it was clear Son #1's stomach was in good hands with his partner (Exhibit A: half of the 50+ boards on Pinterest about food) — and so was his heart.