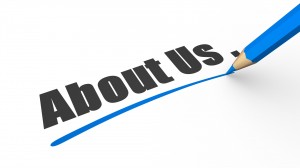 What are your passions? How long have you been in business and why did you start?
If you have a business or personal website, sharing more about what makes you tick helps your visitors feel they know you, leading them to like and trust you. That's why your "About" page is so important.
If you're struggling with what to include on your About page, imagine you're meeting visitors in person. What would you want them to know about you? Here are some suggestions I found while researching the topic for a client:
Include your photo. Put a face (faces, if you have a team behind you) to your name. Show context, maybe you at work or with your pet. This is not the place for stock photos.
Tell a story, about how you got into the field, discovered your passion or changed directions. "Good stories are sticky – which means people are more likely to connect with them and pass them on," says HubSpot.  "Stories are a powerful way to convey ideas and should play an important part in any About Page," agrees Blog Tyrant.
Write conversationally and in a way that feels accessible and friendly. No jargon, please.
Let your personality shine through. Website designer Jill Anderson says including your photo and signature are two ways to add personality to your website.
Give highlights and interesting details rather than a detailed, blow-by-blow account of your life.
Talk about your visitor's challenges and objectives. "But enough about me, let's talk about you," as MailChimp says. Start with why visitors have likely come to your site to show you have their needs in mind, says Ben Austin on the Moz site.
Use social proof. Mention awards, industry accreditations, praise from customers.
Think of other visual content you can include besides your photo, such as a video, infographics, timelines and charts. "People remember 83% more when information is presented visually," says marketing educator Nate Shivar.
Include a call to action. What do you want visitors to do after reading the page – sign up for your newsletter, follow you on Twitter, like your Facebook page? Ask, says Douglas Karr for MarTech.
I also found 28 "masterful" examples of About pages, and 12 of "the best," if you need inspiration.
What other advice would you give for writing an effective About page? Does reading an About page help you feel comfortable with someone? What's the best About page you've seen?
This post first appeared in my newsletter, Wordnerdery, which is a quick read about words, effective/expressive writing, newsletters and more. Are you a subscriber yet? If yes, thanks for reading! If not, you can sign up right now. In keeping with Canadian and U.S. anti-spam laws, you can easily unsubscribe any time.