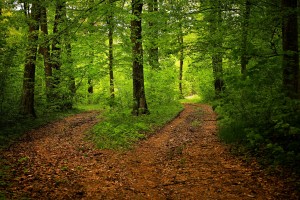 Communicators have a path to choose, says Dan Tisch, APR, CPRS Fellow and president and CEO of Argyle Public Relationships. Are we going to be tacticians or strategists?
At a professional development session hosted by IABC/Toronto and its Professional Independent Communicators in November, Dan pointed out that "The path to being a strategist means thinking differently."
Communicators often talk about informing, announcing, sending and presenting. Dan says instead we should be asking, listening and seeking feedback.
The idea of many speaking but few listening is one of seven trends he said are driving change in communication and PR today. The others: the importance of reputation; the risks of empowered consumers; the rise in content supply over demand; "news deserts" filled with fake news; the decline in trust; and the rise in artificial intelligence.
To step up and join executives in developing strategy, Dan suggests we use these seven habits of highly effective strategists:
Ask 'why.'
Go deeper in your analysis.
Turn analysis into insight.
Ask 'why not' and 'what if' (think laterally).
Bring the outside in, not just the inside out. Be the guide who leads collaboration.
Have the courage to speak the truth.
Measure yourself through business/organizational goals.
Dan advised i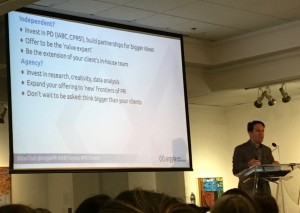 nvesting in your presentation, strategic and analytical skills; helping clients get better at listening; facilitating relationships to build trust; and aligning communication with purpose and values. Build relationships at multiple levels of your company or client organizations and improve the view of what you can do. Measure, measure, measure. And take these steps to transition to a strategist:
For independents:
Invest in professional development (IABC, CPRS); build partnerships for bigger ideas.
Be the "naïve expert" (ask the "dumb" questions).
Be the extension of your client's in-house team.
For agencies:
Invest in research, creativity and data analysis.
Expand your offering to "new" frontiers of PR.
Don't wait to be asked; think bigger than your clients.
For in-house communicators:
Align your professional development plan to support being a strategist.
Be the convener of communication collaboration.
Teach your executives about best practices and global trends.
Extra tactics for those at a junior level:
Look for opportunities to sit in on media training and new business research.
Put up your hand and offer to help.
"Many organizations think they only need PR and communication in a crisis," Dan added, quoting a company that said We'll let you know if we need PR this year. "The smart ones know they need a strategy to strengthen their performance and reputation."
Smart communicators likewise know they need to take a strategic path to strengthen their performance and reputation. Are you in?
Path image by "valiunic" and Pixabay. Photo by Sue Horner. A version of this post originally appeared in the November issue of PIC's newsletter, The Buzz.

Related reading:
View a number of Dan's slides in the Twitter Moment that recaps his presentation in tweets.
Read more about how to earn trust in an untrusting world, which Dan described in a presentation at IABC/Toronto's annual general meeting in June.