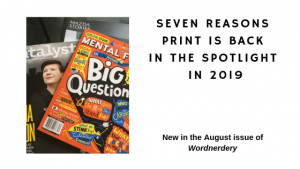 Print seems to be having a moment:
IABC relaunched a print magazine in June. Its former Communication World was once printed monthly and more recently became online only. The new Catalyst will come out twice a year.
Mentalfloss.com joined forces with the Paper & Packaging Board on a special print edition of its Mental Floss magazine this year. The magazine has been online only since ending its 15-year print run in 2016.
Inspired by these and other new print publications, I did some digging to see the current answer to the recurring question, "Is print dead?" The August issue of my newsletter, Wordnerdery, shares the results: seven reasons print is back in the spotlight this year. Among the reasons are that print conveys importance, is trustworthy and supports behaviour change.
How about you – do you still appreciate something printed? Do you only read things on your phone or online? Or do you fall somewhere in between? Please share your thoughts on print in the comments.
Wordnerdery is a quick read about words, effective/expressive writing, newsletters and more. Are you a subscriber yet? If yes, thanks for reading! If not, you can sign up right now. In keeping with Canadian and U.S. anti-spam laws and just plain good manners, you can easily unsubscribe any time.