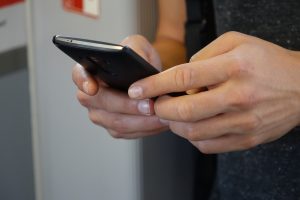 What stops you in your tracks when thumbing through social media? These days, chances are you'll say "video."
At a webinar for IABC's Professional Independent Communicators, Vanessa Holding of Arc + Crown Media encouraged PIC members and friends to jump right in. "Video is an easy way to reach a lot of people, share information about who you are and let them know how you can help them," she said.
Don't worry about professional-quality productions. "When it comes to social media, what you say is more important than what it looks like," she encouraged PIC members. "You can absolutely create quality, compelling videos with your smartphone."
Since she produces professional videos for corporate clients, Vanessa found it "almost debilitating" to follow her own advice. Then the pandemic hit and she had time on her hands. To connect with people and stay top of mind, she created a weekly video using her phone and posted it to LinkedIn.
The helpful videos struck a chord. Beyond likes and shares, the videos also led to corporate clients and invitations to appear on a podcast.
Here's one of her videos on creating your own no-frills, effective video on your phone:
You, too, can have video success with your phone. Here's how:
STEP 1. Think about content
Key to success is thinking about your clients, not promoting yourself. What are they interested in knowing? What do they need help with? Create an ongoing list of topics you will cover.
Try educational videos, with tips or tricks or industry updates. Or do a case study on an interesting project. You could also do a "behind-the-scenes" view that showcases your talents. Draw people in to want to learn more about what you do. Include your contact information at the end so people know how to reach you.
STEP 2. Get the gear
Smartphones typically record at a higher quality than a webcam, and you can do it with just your phone. However, an extra investment will make a difference to your viewer:
STEP 3. Create a script
Plan what you'll say, focusing on providing value. Ensure the viewer walks away with practical advice. Aim for at most three points in about two to three minutes. That's long enough to share real value, but short enough that people don't have to invest too much time.
Create a hook to get attention. Ask a question, share an interesting statistic or make an offer: "I want to share a tip that gets results."
Identify the problem your viewer is facing where you can help.
Set up the solution, outlining your insights.
Introduce the solution, often as three tips.
Summarize your idea and tell viewers what to do next. This could be call to action, like "if you're struggling with X, I can help."
STEP 4. Filming
To look and sound your best:
Keep your background simple and neutral; a mostly blank wall is fine. Make sure nothing is around your head.
Wear a pop of colour so you don't blend into the background.
Film at eye level or slightly above.
Frame yourself so there's not too much space above your head.
If not using a teleprompter, look directly at the camera lens.
Be energetic and confident.
Ensure your video recording settings are for 1080p HD at 30 frames/second (fps).
STEP 5. Editing
Good for you if you know exactly what you're going to say and can pick up your phone, record, stop recording and upload that one take. Otherwise, you might want to edit. You can hire a freelancer to do the editing, or Vanessa suggests learning how to edit yourself. She recommends the Adobe Premiere Rush editing app, which has a free trial. Be sure to add captioning (sub-titles) so your message is clear even with the sound off.
While Vanessa didn't talk about this, I appreciate when there's a transcript of the video below it. This serves people who prefer to skim through or read your helpful tips.
STEP 6: Release your video to the world
Make the most of your video by posting it in multiple places:
your website/blog
your personal LinkedIn page (add the link in a comment, not in the main post, so it stands out) and business LinkedIn page
Facebook, Twitter and other social media
your own page on YouTube
your email signature and in email marketing / e-newsletters
paid ads.
Add a catchy description, worded differently from the video, to encourage people to view it. Add a question to get people to engage and comment. If they do, that opens your content to networks outside your own.
Download a script template and get on Vanessa's mailing list for more video tips.
This article first appeared in the February issue of PIC's monthly newsletter, The Buzz. Image by Semevent from Pixabay.