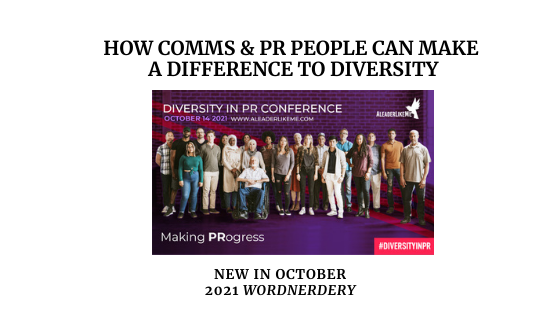 If your company looks "male, pale and stale" at the top, there's a lot you as a communication or PR person can do about it. That's according to participants in the Diversity in PR conference I attended recently.
Right now, most of us are in Diversity 1.0. We may be putting money into training, hosting Black History Month or holding Pride events, but that's just checking off boxes. Moving to Diversity 2.0 is the hard part. That's where leaders treat Diversity, Equity & Inclusion (DE&I) the same way they treat other business strategies: by setting and tracking clear, measurable, time-bound goals.
The good news is that "It's all about being better than we were yesterday," in the words of Advita Patel, co-founder of A Leader Like Me and chair of the conference.
The October issue of my newsletter, Wordnerdery, collects many of the tips from the mix of panel discussions and presentations over the day. These include:
When communicating, keep your DE&I cap on. Recognize that your audience may not all experience life the same way you do.
Consult with and include diverse voices from the beginning, don't just ask for a review and sign-off after other people have done the work.
Help non-minorities understand the challenges of being in a minority through reverse mentoring.
Be an ally. Leave the "footprints" others can step into. Speak up for others. Shine a light on their achievements. Elevate the voices you don't typically hear.
Think about accessibility for employees with disabilities or physical challenges. On videos, use subtitles for those who are hard of hearing.
Commit to change if you don't have much diversity on your top team.
Listen. Talk to employees. Ask, "How can we do better?" Don't be defensive if something's brought to your attention.
Tell people about things you're trying to change, recognizing that you won't always get it right. Ask for comment. Act on suggestions. Build trust.
Wordnerdery is a quick read about words, effective/expressive writing, newsletters and more. Are you a subscriber yet? If yes, thanks for reading! If not, you can sign up right now. In keeping with Canada's anti-spam laws and just plain good manners, you can easily unsubscribe any time.