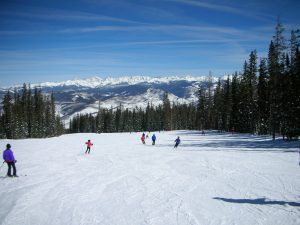 Although the calendar says it is officially spring, the local weather is decidedly unspringlike — factoring in windchill, it felt like minus 9 C (about 15 F) on my one-hour walk this morning with my dog.
So although I have put away my skis for the season, it reminds me that I promised to share some thoughts about my recent trip to Beaver Creek, near Vail, Colorado.
There are definitely some differences between Beaver Creek (vertical rise 4,040 feet or 1,231 metres, 148 trails, 16 lifts) and Blue Mountain (vertical rise 720 feet or 220 metres, 34 trails, 13 lifts).
My husband and I stayed in the gorgeous Beaver Creek Lodge, which understands that when you pay high-season prices, you want to feel like you're getting more than just a hotel room. There were lots of extras at Beaver Creek, from the luxurious (fake fur throw on a big, comfortable bed and a Bose wave radio/CD player) to the practical (mouthwash, terry robes and slippers, body lotion and a pack of two Tylenols to combat the headaches often brought on by high elevation). Check-in time is 3 p.m., four hours earlier than my eventual check-in at Blue. Check-out was noon, an hour later than Blue.
Another simple thing: Cold weather activities typically make your nose run. Beaver Creek had greeters at the entrances to lodges on the mountain, handing out tissues, and there were boxes everywhere — washrooms, restaurants, hallways. Excessive? Maybe, but it speaks volumes about how the resort understands and treats its customers.
Those of us running small businesses should think about how we can do the same.