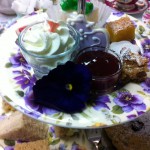 Many people are intimidated by the thought of networking. They feel they need to have a properly rehearsed elevator speech summing up what they do, and a pocketful of business cards that must be handed out. They expect to sell their company or their business, or maybe their boss expects that to justify paying for the event.
Networking doesn't have to be as formal as that. Really, it's just making a connection with another person.
And that's just what about 15 members of IABC/Toronto's Westend group did yesterday at a lovely place called The Victorian Garden Tea Room. Over tea (a choice of 20 different varieties) served in china pots along with individual two-decker trays of tiny sandwiches and dainty desserts, we talked about a whole range of business and personal topics. Although most of us, with a few exceptions, had not met before this lunch, we parted with warm feelings. I heard from several people later that they enjoyed the lunch as much as I did.
I don't think a single business card changed hands, although as one of the organizers I sent everyone a follow-up note with the list of attendees and their e-mail addresses, as a reminder of who was there.