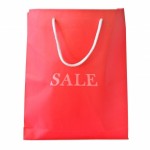 I've often heard about "Black Friday," the day after American Thanksgiving, when shoppers are out in full force heralding the official start of the traditional Christmas shopping marathon. I wasn't sure where the name came from, imagining it referred to shoppers' elbows as they made their way through the crowd, or perhaps other shoppers' eyes from said elbows.
No, according to good ol' Wikipedia:
"It was originally so named because of the heavy traffic on that day, although most contemporary uses of the term refer instead to it as the beginning of the period in which retailers are in the black (i.e., turning a profit)."
This is also "Buy Nothing Day," held deliberately on the big shopping day "as a day for society to examine the issue of over-consumption."
I'm observing Buy Nothing Day myself, but it may have more to do with the fact that I don't have the day off, plus Bloomingdale's, Saks Fifth Avenue and other big name U.S. retailers don't have a presence in my neighbourhood. Noticing that it's only one week until December has me thinking about Christmas shopping, and tomorrow might just happen to be Buy Something Day. Which are you observing?
P.S. While I had been idly wondering where the term "Black Friday" came from, it was a post about Buy Nothing Day from Andrew Careaga's blog on marketing and PR (pointed out by Judy Gombita) that prompted me to look into it. I lost track of whose blog started it or I would have mentioned it in the original post. Thanks to both!
Image: Shopping bag by "nuchylee" and FreeDigitalPhotos.net.