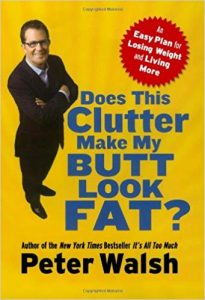 Now THAT's using your words. Isn't this a great title for a book? Does this clutter make my butt look fat? by Peter Walsh.
Although I expected to book to deal with clutter, the sub-title ("An easy plan for losing weight and living more") indicates otherwise. Walsh was apparently a clutter expert on The Learning Channel's Clean Sweep show and also wrote It's all too much: An easy plan for living a richer life with less stuff.
I'm not a big believer in New Year's resolutions, but I do plan to do something this year about the clutter in my office, so I've requested the second "easy plan" from my local library. If I like it, I'll buy it for my own library.
Speaking of libraries, I'm a little jealous that my sister-in-law (who hosted Christmas dinner) is having wall-to-wall bookshelves installed to turn their seldom-used living room into a library. How cool is that?
(Update: I did the same!)