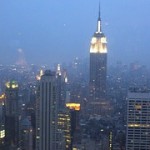 The IABC International Conference in New York City was great! I got back Wednesday evening but have been scrambling ever since to catch up – I didn't bring my laptop and couldn't log in using my roomie's (forgot my password). I'm up against deadlines and Son #2 had his grade 12 prom Thursday night.
Some independents choose not to attend conferences like this because we have to shell out up front, although we can claim the expenses at tax time. I admit to giving any conference careful consideration, and certainly location plays a big part in whether I seriously plan to attend or not. So, New York this year? Why not!
This conference is actually a great experience for indies. Everyone has a huge badge that clearly identifies them as communicators; you get on the elevator, see the badge and have an immediate connection. Where are you from? How are you enjoying the conference? What have you liked so far? So it's great practice meeting people in a supportive environment.
I met people from various parts of Canada, the U.S., Australia, Belgium, Japan, Mexico and Turkey; it truly is an international event! I also deliberately sought out other Canadians (it was easy; we had a red ribbon for our badges), and ended up spending some time with other communicators from Toronto, Calgary and Vancouver. A highlight on the social side was the opening reception at the Rainbow Room, sponsored by Deloitte, followed by the always-amazing Canadian hospitality suite, sponsored by CNW. Many of us danced the night away!
The highlight of the conference speakers was Seth Godin's talk on the last day. I've been following his blog for some time but this was the first time I'd seen him in action. Terrific energy, great presentation, inspiring words about marketing and a pair of knock-your-socks-off socks (Little Miss Matched)!
Next year the conference is in San Francisco. Why not?