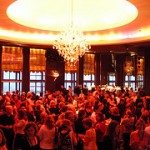 Taking notes during a conference is a great way to remind yourself of the speakers you heard and the insights you gained. Otherwise, I find one presentation tends to blur into another and it's the standout performance (Seth Godin springs to mind) that you remember. Looking over my notes, I can tell you there were other highlights from the IABC conference in New York:
Carol Kinsey Goman on "The silent language of leadership," based on her book, The Nonverbal Advantage. An interesting tidbit: "When verbal and body language are out of alignment, people believe the body." Things that sabotage what you are saying: limited eye contact, turning away, crossed arms/legs, hidden hands, narrowed eyes. Body language that builds rapport: eye contact (long enough to register the colour), leaning forward, smiling, nodding, synchronizing your movements.
Kare Anderson on "Becoming their trusted, top-of-mind expert." She recommended finding your "double major" — the two main skills that make you valuable. ("Ask five friends what of what you know is most valuable.") Also find "unlikely allies" — people in different professions and with different interests — who have overlapping interests. "Give before you ask."
Steve Crescenzo on "Blogging for business — the communicator's role." (The presentation is available on his site until July 10.) Steve sees our role as one of four: (1) be the talent (2) be the talent scout (3) be the coach (4) be the multi-media superstar. He recommended "hit and run blogging," or starting small with a short-term blog on a specific topic. Pick the topics it makes sense to blog about (where you want a conversation). The blogger doesn't have to be an executive, just someone with something to say.
I also enjoyed Leah Reynolds from Deloitte talking about generational differences in the workforce; Angela Sinickas on measurement (although I missed half the presentation because of misreading the schedule/an unfortunate scheduling of sessions); and Tudor Williams and his son Ryan Williams on social media.
If you were there, what sessions stood out for you?