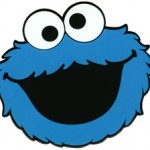 One of the great things about having small children is watching Sesame Street.
My children loved that show for the funny puppets and silly sketches. I loved it for the way it made learning fun, and because the writers did crazy things that made parents as well as children laugh, and did clever things referencing pop culture.
They still do. I had seen the YouTube video of Feist singing her famous 1,2,3,4 ("monsters walking cross the floor") but Louise Desmarais of Mud Creative pointed me to another of Norah Jones with Elmo, singing Don't know why Y didn't come.
From there, down the rabbit hole I went. I found James Blunt, REM, Alicia Keys, Tony Bennett, Andrea Bocelli and so many more. I'm not sure if the songwriters or the show's writers came up with the alternative verses, but either way, you have to admire writing talent like that!