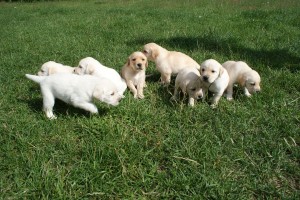 You can't argue with the Publication Coach, Daphne Grey-Grant, when she encourages writers to use metaphors. "They add interest, colour and power to your writing," she says. "As readers, we all do better when we can visualize something concrete."
I keep a file of great metaphors (and similes – thanks, Gloria!) to use as inspiration. Here are a few I've spotted that appealed to me:
"Three infants crawling around the house like Labrador puppies." – Daphne Gray-Grant
A wine that is "well crafted for the money and widely available – the Honda Civic of white wines." – Wine writer Beppi Crosariol in the Globe and Mail
"Imagine thousands of brands, stalled like cars in Friday afternoon traffic." – MarketingSherpa
"As spindly as a mantis" with "his black mock turtleneck…bunching up like a flag on a listless day." – Writer Tom Junod in Esquire magazine, talking about Apple CEO Steve Jobs
"I am the planet's most affectionate life-form (something like a cross between a golden retriever and a barnacle)." – Author Elizabeth Gilbert in Eat, Pray, Love
"One group stands out, with conversation as relaxed as a lingering autumn twilight." – From an article by Deborah Carr at Homemakers.com
"Showing a smiling face to a typical Web customer is like showing a crucifix to a vampire." – Gerry McGovern in a Ragan article on web users.
What's your favourite metaphor? Have you run across any great ones lately?