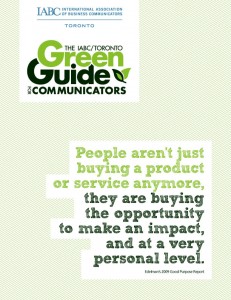 In all the excitement of the IABC 2010 World Conference last week, I forgot to point out the excellent Green Guide put together by IABC/Toronto's Corporate Social Responsibility committee.
The guide is designed to provide "best practices, communications planning and success stories in green marketing communications, sustainable and corporate social responsibility (CSR) practices." There are sources for vendors who provide ecologically responsible materials, tips for implementing environmental practices within an organization, a glossary of terms and examples of successful green campaigns.
The guide was written by my fellow Toronto independent Frances Roberts of Push Communications. Bernard Hellen, R.G.D., of traffic marketing + design inc., did the layout, and (ahem) I handled editing and proofreading. I'm torn between saying "tell me if you find any mistakes I missed" and "DON'T tell me"! Either way, I'd love to hear what you think.
Download a copy under "Green Guide" from IABC, or here: IABC/Toronto GreenGuide. (Sorry, the guide is no longer available!)