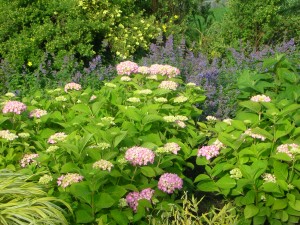 IABC/Toronto recently treated volunteers to a lovely appreciation event, a buffet dinner aboard the Jubilee Queen, a replica of a Mississippi paddlewheel boat. The weather had been iffy all day, but the sun came out as we lined up to board.
Having arrived early, my friend Donna Papacosta and I first toured the beautiful Toronto Music Garden. This charming space celebrates its 10th year this year, and I am somewhat embarrassed to say this is not only the first time I have visited it, it's the first time I've even heard of it!
The space is the creation of renowned cellist Yo-Yo Ma and landscape designer Julie Moir Messervy. The garden has six "rooms," each an interpretation of the traditional dance forms featured in Bach's First Suite for the Unaccompanied Cello. For example, Courante is "an exuberant movement" interpreted in an upward-spiralling path through tall grasses and perennials, topped by a Maypole (the creation of Canadian artist Anne Roberts).
It's a lovely, calm, inviting spot, and a fine example of communicating meaning in unexpected and inspiring ways. Even better, throughout the summer it showcases free concerts in the Music Pavilion (created by architectural blacksmith Tom Tollefson), weather permitting. The garden is located at 475 Queen's Quay West, between Bathurst Street and Spadina Avenue in Toronto.