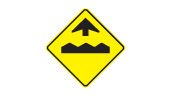 You may recognize this road sign, which I have borrowed from the Ontario Ministry of Transportation's helpful guide to common and not-so-common road signs. It means there's a bump or uneven pavement on the road ahead. The yellow "caution" indicates drivers should slow down and keep control of their vehicles.
There's a bump coming up in the road ahead of me, too. I've decided to go back to school.
Oh, it seemed like a good idea back when I applied to Royal Roads University earlier this year. This is kind of a "bucket list" thing; something I have wanted to do for a long time. My own children are close to completing their own degrees, and they are pretty self-sufficient. It seemed like a good time to pursue my own.
The degree I'm pursuing is a two-year online BA in Professional Communication. It's set up so students "manage their education while maintaining work and family life" due to the "unique learning model that combines convenient web-based learning with short [three-week] on-campus residencies."
So I find myself three weeks away from this on-campus residency, which is on the other side of the country in Victoria, B.C., up to my neck in work and wondering what on earth I was thinking.
I already have a stack of "work" work. Now I've added three textbooks to read and assignments to complete every week until I go. There are apparently 45 of us in this class of 2012, and we all had to introduce ourselves in three separate online discussion forums and comment on at least two of the other posts. We have to watch several videos and speeches and comment on those. My in-box overflows every day with an extra 30-50 messages because there appears to be no way to subscribe to the forums in digest form.
I'm having to work hard at not freaking out, too:
I'm paranoid about missing an assignment because it's up to the students to find them, and I've already discovered a forum I hadn't subscribed to a week after it had launched.
One of the first three concurrent courses is my absolute all-time least favourite, Public Speaking.
Almost all the other students are quite a bit younger than me; am I too old for this?
My three weeks in residence will be in a typical tiny single-bed dorm room, with a shared bathroom down the hall.
It's been a long time since I've been in school and I can't help but worry about keeping up.
All of this to say that there is very definitely a big bump in the road ahead. Part of my attempt to slow down and keep control of the vehicle is sharply cutting back my online life outside of Royal Roads. I'll try to blog occasionally and share what's going on, and maybe I'll get on Twitter or Facebook once in a while.
So it may seem like I've dropped off the face of the earth, but it's just off the radar for now. See you in September, maybe!