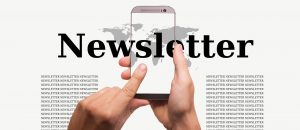 While Facebook and Twitter continue to get all the press, email newsletters just keep building their solid reputation. In fact, they are "the Internet's best tool for supplementing a website," according to web usability expert Jakob Nielsen:
"The positive emotional aspect of newsletters is that they can create much more of a bond between user and company than a website can."
Very few promotional efforts can claim the degree of "customer buy-in" enjoyed by newsletters, Nielsen says, noting that 69% of users "said they look forward to receiving at least one newsletter, and most users said a newsletter had become part of their routine." Asked why they liked email newsletters, more than one-third highlighted these benefits:
They are informative and keep users up-to-date.
They are convenient and delivered straight to the in-box, needing just a click to open them.
They have timely information and real-time delivery.
Nielsen encourages looking at newsletters as a long-term investment, noting that "they work their magic over time." Be sure what you publish has value to grow or keep your reputation and maintain a relationship.
I love newsletters, print and electronic. The best ones, as I've said before, are warm and friendly, and contain interesting and/or useful information. They arrive often enough to be familiar and welcome, but not so often that they seem TOO frequent. (Nielsen says one of the most frequent complaints he hears is that some newsletters arrive too often; readers also want them brief.)
Nielsen says e-newsletters are a better way to stay in touch with customers than updates to Facebook or Twitter, because they go to the reader's in-box and stay there. On a social network, new postings continually replace the old, and your comment just gets pushed out of the way. Plus, people use social networks more to keep in touch with friends than to go looking for corporate content.
As always, Nielsen shares great advice in the executive summary of his newest report on email newsletters, and of course even more in the 586-page report ($497 US), such as:
Facebook is good for one-line updates; use your newsletter to convey more detailed information.
Be sure to send out news through your newsletter BEFORE tweeting or posting about it elsewhere.
The volume of email is increasing (300% higher than just four years ago!), so make sure to use clear subject lines with key content from the issue to encourage readers to open it.
Lead the content with your most important information. This is especially important when many of your readers will be looking at a preview on a mobile device.
One of the things I like about Nielsen is his generous sharing of content. I also appreciate that he compares the various editions of his newsletter reports to help you decide if you need the newest edition or not! Thanks, Jakob.