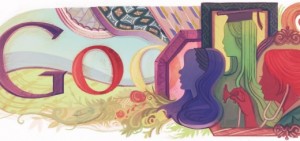 Happy International Women's Day to all the fabulous women in my life. You are my friends, my inspiration, my support, my joy. You are brave and strong, beautiful and caring, funny and fun, whether you know it or not (I'm especially looking at you, Mom!).
Of course I've already heard the question, "So when is it International Men's Day?" Sorry, guys, every day is men's day.  Don't believe me? Look at this snappy short film by artist and director Sam Taylor-Wood, released to coincide with this day.
"We're equals, aren't we, 007?" asks Dame Judi Dench as Daniel Craig walks towards the camera. "Yet it is 2011 and a man is still likely to earn more money than a woman, even one doing the same job."
She goes on to list many of the ways we are not equal: We're responsible for two-thirds of the work done worldwide yet earn 10% of the income…we own just 1% of the property…one in four are victims of domestic violence.
The film concludes, "So, are we equals? Until the answer is yes, we must never stop asking."
Image credit: The Google doodle highlights women's economic, political and social achievements around the globe.