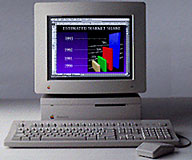 In an early job, I worked in a sea of PCs, but got special dispensation to get a Mac because I worked in the Communications department. The IT guy seemed as excited about it as I was.
A Mac IIsi (shown here) helped me launch Get It Write in 1991. Today, I use a MacBook Air that's a fraction of the size of my original Mac and many times the storage and computing capacity. In between, I've had other computers but stayed true to the intuitive and easy-to-use Mac. When PC fans scoffed at my choice or accused Mac lovers of just trying to look cool, I would say, "You don't understand. Macs just get it."
So an appreciation for the deceptively simple and elegant products created by Apple — including the iPod and iPhone — is part of the reason I have long been a Steve Jobs fan. Yet that in no way explains why I feel such a profound sense of loss for a man I didn't know and never met.
Perhaps it's the sense of passion and purpose that seems to have driven the way he lived his life. I've already spent far too long today reading the many eloquent posts about him, viewing clips of significant moments, and recalling the many heartfelt words of wisdom he shared.
You'll find some of his best quotes in the Wall Street Journal, many from the 2005 Stanford University commencement speech. (Have a listen, if you've never done so. All the more heartbreaking is when he talks about being diagnosed with cancer, having had the surgery and putting it behind him.)
One of my favourite Steve Jobs quotes is this excellent philosophy on life:
"Your time is limited, so don't waste it living someone else's life."