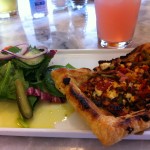 So much goes on during an IABC World Conference, but I want to take a minute to talk about food.
One of the great things about the conference is the Tuesday "dinearound," something that I believe started years ago as a way for conference-goers to fill an open evening in an unfamiliar city. Local chapter members volunteer to lead a group, and visitors can sign up for an evening with fellow communicators in a restaurant recommended by locals. It always books up early!
This year, a new twist came about because there is an IABC/Eats Facebook group whose members have been talking about food all year. Fellow IABC/Toronto member Priya Bates, ABC was the first to suggest that any of the group members who planned to be in Chicago should meet up. So it happened that 10 of us (coincidentally, all Canadians but one) had a fabulous dinner at Frontera Grill, run by renowned chef Rick Bayless. Apparently, scoring a reservation here was quite a feat! The secret: book two months ahead, and accept a 5:30 p.m. reservation.
Other special meals happened on the patio at Emilio's Tapas; the lively Gage Restaurant & Tavern gastropub near Millennium Park; Gino's East (allow 45 minutes for deep-dish pizza); West Egg for fast, friendly service and a solid breakfast; Markethouse for "Heartland" basics supporting local farmers; and Toni Patisserie & Cafe, where I took the photo here of a veggie tart. A side effect of the IABC/Eats group is a lingering and overwhelming urge to take pictures of my food and drink wherever I go!
One of the other meals I most enjoyed was a morning latte and muffin with my colleague, friend and conference roomie, Donna Papacosta. Nutritionally, it probably wasn't the best or most exciting meal, but it was always a great start to the day. Thanks, roomie!
If you were at the conference or if you've been to Chicago, where did you eat? Where do you recommend? I'd love to go back.