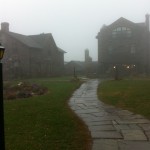 At the beginning of December, I was lured into a dangerously addictive lifestyle. I may never be the same.
Ste. Anne's Spa has earned a reputation for being a decadent and relaxing getaway destination. Heavenly body treatments like hot stone massages (my weakness) and mud wraps and facials. A casual atmosphere that encourages you to relax in your robe as you wait for your next treatment, or in between the steam room, hot tub or pool. Good food, locally sourced. Bowls of apples and jars of biscotti handy if you get hungry in between meals (unlikely!). Attentive staff. If you stay overnight, as I did and as you really should, comfortable beds in charming cottages or rooms in the main historic building.
My mind may have been floating amid all this relaxation, but it did strike me that entrepreneurs and other small businesses have much to learn from Ste. Anne's Spa:
1.  Be confident in your value; the people who see the value will pay it, and the ones who don't see the value probably aren't your target market. Ste. Anne's Spa doesn't pretend to be inexpensive. You know going in that it's going to cost you. But you also know that you are going to be catered to and pampered, so you will save up your money for the trip because it will be worth it.
2.  Don't nickel and dime; build everything into your fee. In many businesses, you must pay up front, even if you have been a loyal paying customer for years. Or, you feel like you are being presented with a bill every time you turn around so you're constantly reaching into your wallet. At Ste. Anne's, everything is either built into the price (meals, accommodation, use of the facilities) or is added to your bill (the various extra services), which you pay on the way out. It may be because I went with a group, but I didn't even have to give a deposit up front.
3.  Offer options for those with a tighter budget without undercutting your value. If you can't afford an overnight stay, there are options for day services. It's less expensive during the week than on weekends. There are discounted last-minute stays listed on the website or you can bid on spa packages at the eBay-like SpaLotto.com. A rewards program recognizes the value of your repeat business and your referrals. And of course your loved ones can buy you a gift certificate.
4.  Make it easy to reach you and do business with you. You can reach Ste. Anne's Spa by telephone (including a toll-free number), email or live chat from the website. They are visible where customers are, with a Facebook page and a Twitter account (@steannesspa), where comments are promptly acknowledged and responded to.
5.  It's a bit of a cliché, but delight your clients. My spa buddies had been to Ste. Anne's before or I never would have thought to bring wine, which I was delighted to find you can enjoy with dinner when you stay overnight. You get turn-down service with a chocolate on your pillow. If you stay in a cottage, you can get a lift back from the main building (a welcome service when it's raining, or it's cold and you're wearing your robe). You can travel by train and get picked up at the station. There's a monthly customer appreciation contest where you and a friend can win an overnight stay for providing a referral or a testimonial.
I think you get the picture. My companions were mostly repeat visitors, and it was easy to see why. I'm looking forward to going back, too!
Have you been there? What did you think?