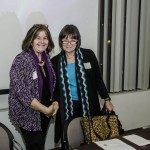 Donna Messer works a room like nobody else.
Members and guests of IABC/Toronto's Professional Independent Communicators (PIC) saw first-hand why Donna is known as the Queen of Networking.
If any of us expected a traditional PowerPoint presentation, we quickly found out that Donna doesn't work that way.
Networking, Donna told us, is "a systematic process that gets measurable results. If you aren't getting results, you aren't networking."
Making her way from person to person, Donna demonstrated that networking is really "business matchmaking." Take what you learn about a new contact and find a match in your network. A healthcare writer, for instance, might like to be introduced to someone you know who leads communications in a hospital.
Use the 3 Ws: Who are you? What do you need? What are you willing to share?
Donna explained the "3 Cs of networking" as collaboration, communication and commitment, found in these four steps:
Develop a "give before you get" approach. Think of who you know who has something in common and help make the introduction without expecting anything in return. Find common ground by asking: What do you like to do? What associations do you belong to? What's your favourite vacation spot? What are your hobbies? Where do you volunteer? What's on your bucket list?
Use social media wisely. Post information that others will want to share. Set Google Alerts for your own name and companies or people you want to connect with. If you don't have a blog yet, start one, writing about what you know and who you know.
Follow up with new contacts. Give something — information, a link, a name. You want people to feel they've been given a gift.
Measure results. Ask people to let you know what comes of the connections you made.
Other networking tips included:
To help the speaker at an event remember you, talk to him/her before he/she speaks to you.
When you follow up with someone, send an email that can be forwarded to make an introduction.
Don't wait until you need a network to build it.
If you don't ask, you don't get.
Social capital is what you know about who you know ("she's crazy about dogs").
Ask "How should I communicate with you?" Donna prefers email to LinkedIn, which requires an extra step.
If the contact prefers to connect by email, ask what to put in the subject line. Donna suggests "I met you at…"
Don't interrupt two people talking; three is fine, but wait for a break in the conversation to comment on something you overheard.
Donna mentioned that the PIC group was her third event of the day, but her energy and enthusiasm certainly gave no hint.
"Networking is the single most important thing you can do to get a job, keep a job, find a man, whatever!" she said. "It's magic."
Photo: Donna Messer, left, with Patricia Davies of PIC. Photo by Alan McKenzie.
Update: Sadly, Donna died on April 3, 2015. She had been diagnosed with cancer just weeks earlier.