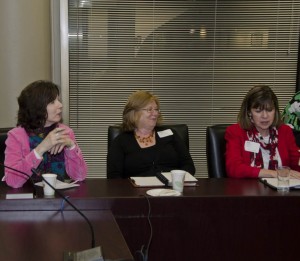 Whether you've been in business for one month or more than 20 years, there's always something to learn from fellow independents.
Here are just some of the useful tips shared at an IABC/Toronto Professional Independent Communicators networking exchange:
LinkedIn is a good way to stay in front of people digitally and create awareness of what you do.
On pricing: If you've quoted $2,000 for a project but you agree to do it for less when asked, what does that tell the potential client? That you were overcharging! Only agree to a lower price if you adjust what you will deliver. Great line: "You're not at a bazaar haggling over a carpet."
Suggested resources included Fresh Books online invoicing and accounting software; Billings time-tracking and billing app for Mac; and RescueTime time management and productivity software.
Ask yourself, "What's your passion?" (not necessarily what's in your past) to help you decide the focus of your new business.
Follow up with potential clients six times, spaced out appropriately (like once a week or once a month). Find helpful advice on this by Write to Done and Steve Slaunwhite.
Asked for comment after the meeting, new entrepreneur Betsy Chaly said, "The small group, round table format was a comfortable environment in which to ask questions that would be hard to bring up in other forums. The advice provided by participants, based on their own experiences, was invaluable."
Andrew Wright agreed, saying, "The PIC Networking Exchange events have been a tremendously positive experience for me. For a newcomer to Toronto and to IABC, it's been a fantastic way to meet colleagues, to discuss current strategies and skills, and an opportunity to learn from some highly talented and experienced professionals."
There will be more networking exchanges in the fall when PIC's regular programming picks up after a summer break – and I'll be on the PIC executive!
Were you at the PIC meeting? Did you learn anything new? Please comment! Or share this post if you found the tips helpful.
Photo: From left, Donna Papacosta, Janet Comeau, ABC and Sue Horner (in the red jacket!) take part in the PIC networking exchange.  Photo taken by Alan McKenzie, ampfoto.com.