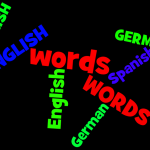 "I grew up sort of basted in words."
That wonderful evocative sentence comes from Richard Bach in The Bridge Across Forever. The line explains his childhood, where his father read stories in German – translating as he read – and the boy's mother would chat with him in Spanish.
The June issue of my Wordnerdery newsletter talks about the joys of reading expressive writing. 'Expressive' can mean using similes ("The river is like a snake…") and metaphors ("The river snakes its way…"), or simply choosing words that are specific, colourful and interesting. If you enjoyed the examples I found in the newsletter, you may like some of the others that are in the Red Jacket Diaries vault (my fave parts in bold):
"I wouldn't patrol the newsroom looking for column ideas, they would simply arrive on my mental doorstep like cowpats." – Heather Mallick in the Toronto Star
"'If you have a quake of, let's say, 6.2 or larger, every sand grain on the planet is moving to the music of that event." –  Ross Stein of the US Geological Survey, as quoted by Catherine Brahic in NewScientist
"By yearend, investors of all stripes were bloodied and confused, much as if they were small birds that had strayed into a badminton game." – Warren Buffet in an annual report message for Berkshire Hathaway
"I'm not looking at the big picture here, just the small daily aspects of life, which lend it savor and tunefulness and chewability." – Garrison Keillor in The New York Times
"I do have one special gift, perhaps the odd fruit of a life as an editor, author, and reader: I see dead writing." – Arthur Plotnik in Spunk & Bite: A Writer's Guide to Punchier, More Engaging Language and Style
"One group stands out, with conversation as relaxed as a lingering autumn twilight." – Deborah Carr (sorry, the link to the story is no longer active)
A wine that is "well crafted for the money and widely available – the Honda Civic of white wines." – Wine writer Beppi Crosariol in the Globe and Mail.
What expressive writing have you seen lately? Please share!
Word image created at Wordle.net.