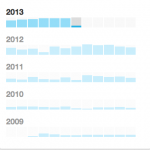 Have you taken a look at your Twitter archive yet? Serious geeks will use it to analyze what they said and when, but I highly recommend it as a fun trip down memory lane.
To find it, log into Twitter, go to Settings, then scroll down to Your Twitter data. Re-enter your password and scroll down to find Download your Twitter data. You'll get an email with a link to download a file of all your Twitter activity.
The chart here shows my own checkered Twitter past. You can see how much more robust my activity is in 2013 compared to the faint blue marks indicating 2009.
My first shy tweet was "Taking my first hesitant flight!" Several times I had to repeat a tweet to include the proper @ symbol for a name or the full web address to activate a link, cursing those "darn newbies." But I soon caught on.
From 15 tweets the first month, I quickly rose to a steady state of more than 150 a month, with a chatty high of 262 in August 2012.
But it's not really about how often you tweet – it's about WHAT you tweet. Looking back, my archive shows a range of tweets. All along, I've tried to share interesting / funny / touching content, comment on tweets, help promote events, converse with others and occasionally mention my own blog posts. So no, Twitter isn't just a mindless place to share what you ate for lunch.
The real value is that through Twitter, I've met new people and made new friends, some of whom I was able to meet in real life later. I've extended my network, including connecting with terrific IABC colleagues around the world. I've been pointed to interesting websites and heard breaking news on Twitter before it broke elsewhere.
Have you looked at your own archive? What did it tell you? And what benefits do you see in Twitter?
Related posts:
These pet peeves are some classic "don't do this" Twitter moves.
Do you tweet more than 50 times a day? Less than 10? What's too much or too little?
Are you newish to Twitter? Here are some tips to get you started.