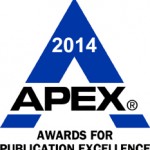 Yahoo! My monthly newsletter, Wordnerdery, has been given a 2014 APEX Award of Excellence for Publication Excellence.
APEX Awards are given by Communications Concepts, which helps communicators "write, edit and manage more effective business publications." The organization bases the awards on "excellence in graphic design, editorial content and the ability to achieve overall communications excellence."
The competition drew 2,100 entries, of which 164 were newsletter entries. The award for my own newsletter came in the category of Newsletters – Electronic & Email, which recognized 15 winners, including one other Canadian.
Wordnerdery is a quick read about words, effective/expressive writing, newsletters and more. Are you a subscriber? If yes, thanks for reading! If not, you can sign up here. In keeping with Canadian spam laws, you can unsubscribe at any time.