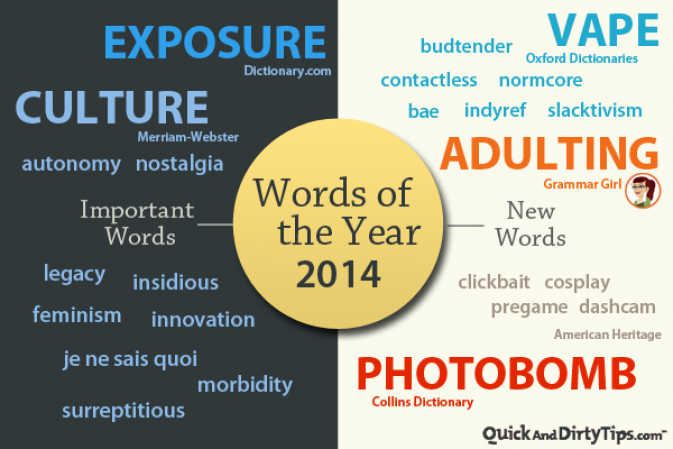 People love to create new words, and every year we officially welcome some of the best/most used ones; or maybe, reluctantly let them in the back door. These words generally reflect the "preoccupations" of the year and are thought to have staying power.
Whether you like them or not may come down to your age and who your "peeps" are. The entertaining Word Spy describes it this way:
Any word that is in the language when you're born is a natural part of the way the language works.
Any word or phrase that's coined between when you're 15 and 35 is new and exciting and you'll probably use it all your life.
 Any word or phrase coined after you're 35 is against the natural order of things.
Here are some of the words for 2014:
Culture (chosen by Merriam-Webster): A term frequently used in discussions of social phenomena, as in corporate culture or rape culture. M-W bases their choice on the number of times a word is looked up over the year. The M-W list also includes nostalgia, insidious, legacy, feminism and je ne sais quoi.
Exposure (Dictionary.com): Editors scour news headlines and Google trends, and felt this word connected stories related to Ebola, ISIS, data breaches and other high-profile news. The list also noted borders, disrupt, wearables and bae.
JOMO (Word Spy): The "joy of missing out" is the counterpart to FOMO, or fear of missing out, and is "the pleasure derived from no longer worrying about missing out on what other people are doing or saying." Word Spy has lots of other contenders chosen as most popular of the words posted daily, including the "Facepalm d'Or" for Gwyneth Paltrow's conscious uncoupling.
Photobomb (Collins English Dictionary): The Queen was among the royals whose face in the background of someone's photo was a great example of a photobomb. Other choices were bakeoff, normcore and (dating app) Tinder.
Vape (both Oxford Dictionaries and Oxford English Dictionaries): Use of the word describing the vapour produced by an electronic cigarette more than doubled in 2014, according to the editors. Among the other words that "attracted a great deal of interest" over the year are bae, budtender and slacktivism.
What do you think? Do you love or hate any of these choices? Do you agree with Word Spy's take on why we accept new words or not?
Image created by Mignon Fogarty, aka Grammar Girl, who throws her support behind "adulting," a word describing acting like an adult or engaging in activities usually associated with adulthood.