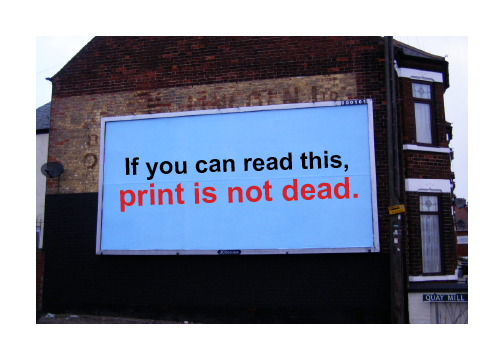 Author Harper Lee's recently discovered book, Go Set a Watchman, will launch with an e-book and audio book – and two million print copies. Her original 1960 book, To Kill a Mockingbird, still sells more than a million hard copies a year.
Clearly, print is not dead. Here are some of the reasons why:
Understanding and retention are greater with print than online communication, says Shel Holtz, ABC. In a post on predictions for internal communications in 2015, including "Print will re-emerge," he adds that even younger demographics prefer reading longer text in print.
People are more engaged when reading printed material, says Forbes, whereas websites "are often skimmed in as little as a 15 second visit." The article advises businesses to use "as many channels as possible" to reach the target, and don't exclude print.
Do you have remote and in-house employees with limited access to laptops and computer terminals? Print remains popular for both groups, reports Ragan Communications in a piece on the use of email. Asked to pick the channels that best build awareness of important information, 81% of companies surveyed chose print publications.
Read the February issue of Wordnerdery for more on why experts say print isn't dead.
Wordnerdery is a quick read about words, effective/expressive writing, newsletters and more. Are you a subscriber yet? If so, thanks for reading! If not, you can sign up right now. In keeping with Canada's anti-spam laws, you can easily unsubscribe anytime.
Image: 'Print is not dead' billboard by Colormetrix.