Toronto's Royal Ontario Museum (ROM) launched an exhibit this week that explores the story of nine rare blue whales that became stranded in thick ice and died. The ROM recovered two of the skeletons after the creatures washed ashore in Newfoundland and Labrador in 2014.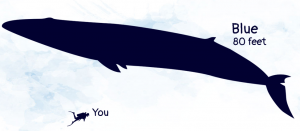 Blue whales are massive, but even before you get to the exhibit to see for yourself, the ROM does a great job of helping visitors understand the size of the animal and the significance of the loss.
Just one example: A quiz lets you enter your own height to see how you compare to "Blue." (That's my comparison above.) The Blue on exhibit is 80 feet long, it says, but "the longest blue whale ever recorded was about 110 feet…about the same length as a full-size basketball court."
My March newsletter shares more examples of writing, from the ROM and others, that conveys the importance of numbers.
What effective ways have you seen numbers explained? Please share in the comments below. I'm always looking for creative examples and inspiration!
Wordnerdery is a quick monthly read about words, effective/expressive writing, newsletters and more, including the occasional ponderings on the meaning of life. Not a subscriber yet? You can sign up right now. In keeping with Canada's anti-spam laws, you can easily unsubscribe any time.