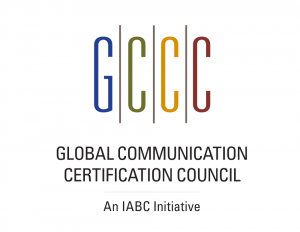 Who doesn't want to be recognized for knowing your stuff?
For many professions, certification gives you unbiased recognition that you know what you're doing. Accountants, engineers, Human Resources professionals, financial planners and more have certifications. Now, communicators have one, too.
One of the first to earn her Communication Management Professional (CMP) "badge" is my friend and colleague, Priya Bates. Priya is an Accredited Business Communicator (ABC); an IABC Fellow, the highest honour awarded by the International Association of Business Communicators; and a Master Communicator (MC), the highest honour IABC Canada can bestow. A lot of initials there, I know.
When the CMP program was announced, Priya shared some details about the process with IABC/Toronto Westend members.
CMP certification replaces ABC accreditation, which Priya said was intense, took a huge amount of volunteer effort and was not objective. The CMP process is an IABC initiative, but it's based on global ISO standards and is run at arm's length by the Global Communication Certification Council.
GCCC offers two levels of certification:
Communication Management Professional (CMP), for generalists, specialists and established business communicators.
Senior Communication Management Professional (SCMP), for highly skilled business communicators who provide strategic communication advice and counsel to executives.
Here are some of the differences between the CMP process and the ABC process:
| | |
| --- | --- |
| CMP (certification) | ABC (accreditation) |
| Administered by the Global Communication Certification Council | Administered by IABC |
| Open to anyone | Open to IABC members only |
| CMP designed for those with 6-10 years' experience; SCMP for those with 11+ years | Designed for those with 10+ years' experience |
| One exam; fee for your application ($100 for IABC members), the exam ($400) and a yearly maintenance fee ($100) | One exam; fee for your application and exam |
| Must stay current with 40 hours of relevant professional development each year. Note that attending the World Conference is worth 20 hours. Books, seminars, webinars and other training also count. | No requirement for ongoing learning |
The certification exam consists of 100 multiple-choice questions from a bank of 500 covering six core principles: ethics; strategy; analysis; ability to provide context; engagement; and consistency. You can download a practice test from the GCCC's CMP Study Resources page.
CMP questions are generally clustered in this proportion:
Communication strategy and engagement: 34%
Communication research and analysis: 24%
Communication measurement: 19%
Consistency and strategic implementation: 17%
Communication ethics: 6%
SCMP questions are in this proportion:
Advising and leading: 23%
Management: 20%
Strategy development: 19%
Reputation management: 18%
Ethics: 10%
Innovation: 10%
You're given three hours to take the exam. It is a pass/fail, and you must achieve 75% to pass. If you fail, you'll receive a report showing how you performed in each category to enable you to work on the problem areas and try again. After a second failure, you must wait six months to try again. You get three tries in all.
"If you're doing communication every day, there's no reason you shouldn't pass," Priya encouraged the group. "Look for clues in the questions that point to one answer over another."
To brush up, she suggested these resources:
The IABC Handbook of Organizational Communication. UPDATE: This is longer on IABC's new website but the 2011 version is available from Amazon.com and Amazon.ca.
The IABC Code of Ethics ("Read this and know it," Priya said.)
NEW: GCCC has an overall Study Resources page and links to more resources specific to CMP and SCMP
Check the Job Task Analysis link on the appropriate page for a list of major tasks associated with each category.
Look for IABC resources for preparing Gold Quill, Silver Leaf or chapter award-winning entries.
"Communicators often like being behind the scenes, but we need to step up and be seen as strategic advisors," Priya said. "Achieving certification is proof you know your stuff."
If you're interested in getting certified, here's what you need to do:
Learn all about the application, the exam and the professional development required to maintain certification on the GCCC website.
Set up a process to plan and track your regular professional development. Eligible courses must have been taken within the two years before you apply.
Submit your application, along with supporting details on your formal education and training, references and a letter of recommendation addressing your senior-level contributions.
Take the exam (you'll find out within 30 days of applying if you are approved to sit the exam, and you'll have two years to do so). NEW: Exams are now remote so you don't have to wait for your chapter or the World Conference to host an in-person exam.
View more details on the GCCC website.
Updated January 31, 2023.