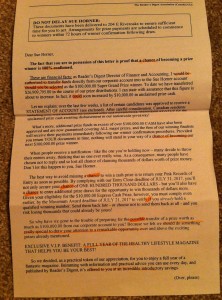 Last week, I got a letter from the publisher of Reader's Digest, indicating I "could" be a winner. Ooh, I have a chance to earn a chance to win ONE HUNDRED THOUSAND DOLLARS!
The letter is a classic direct mail sales letter, complete with the required P.S., supposedly one of the most-read parts of such letters.
Shall we take a closer look?
The letter is long, two pages of mostly lengthy paragraphs. A glance shows countless instances of "could" and "potential" and "chance" and "if." There are also "prize distributions" and "guarantees" and "unclaimed prize cash." Eleven exclamation marks convey the breathless excitement of all that could, maybe, possibly be won. Shameless flattery includes calling me a "highly valued candidate" being offered an "exclusive opportunity."
I know, you're wondering how I didn't send in the three "Pink Records of Entry" to guarantee all my additional chances. Call me suspicious.
Towards the end of page one, we find the real reason for the letter. The prizes are a "really special" way to draw my attention to a "remarkable opportunity." That opportunity is a full year of a "fantastic magazine" at "incredible introductory savings." In paragraph two on the second page, we find the "risk-free subscription" is only $18.97 (saving 30%!) for a full year of six great issues. Plus $6.99 postage, processing and handling.
Just for fun, I ran the 17-sentence introduction through the Hemingway app. This test measures how easy it is to read and understand a piece of writing.
BEFORE
The app gave the intro a grade 8 level (able to be understood by most grade 8 students). It flagged two complicated words (accorded and utilize), highlighted in yellow two "hard to read" sentences and in red two "very hard to read" sentences – all in just three paragraphs. That first muddled line is the best, don't you think?
I rewrote the intro and ran the test again. The app flagged no words or sentences, and found it readable at a grade 5 level.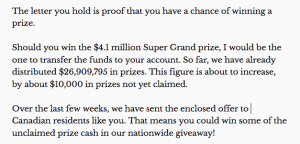 I'm not saying the writer was trying to confuse the reader. But you have to wonder what she/he was asked to produce when more than one sentence "is so dense and complicated that your readers will get lost trying to follow its meandering, splitting logic" (how the app defines "very hard to read").
Related reading:
9 steps to readable writing, in my July 2016 newsletter